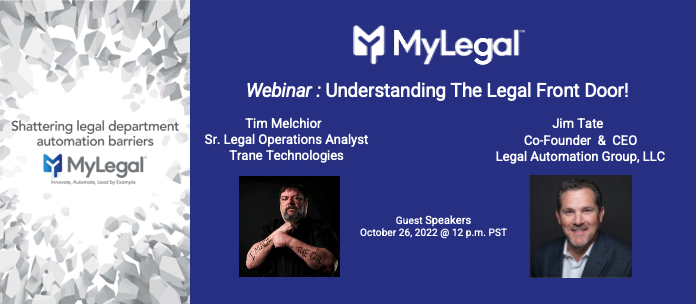 Join us October 26th at 12:00 PM Pacific for an informative session from guest speaker Tim Melchior, Sr. Legal Operations Analyst at Trane Technolgies and Jim Tate, Co-founder & CEO, Legal Automation Group (developers of MyLegal). 
They will be explaining key characteristics of "The Legal Front Door" and describing how corporate legal departments that use a centralized collaboration environment and Low-Code/No-Code application platforms as a cornerstone of their legal technology stack, are achieving unsurpassed efficiency, improving customer satisfaction, while at the same time reducing costs  
There will also be a brief technology demonstration of MyLegal – the market's most comprehensive Legal Front Door solution. You do not want to miss out on this. 
MyLegal – Shattering legal department automation barriers! 
Register Here