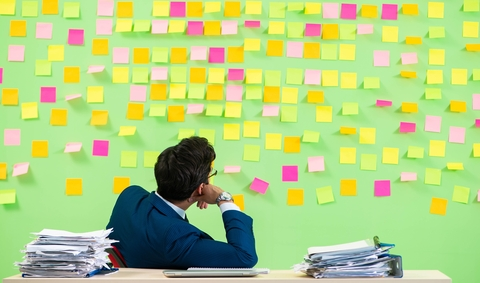 What one legal tech project will have the most impact on your departmental and company-wide objectives?
As a self-identified legal operations geek, one of my favorite hobbies is to read as much as I can on the legal ops industry. I know…that's a bit of overkill. A few weeks back, in-between NFL playoff games, I came across a 2021 Ernst & Young (EY) research article (here) which surveyed CEOs, from a broad-base of industries to determine their top priorities for their legal departments. Findings detailed the following areas of focus:
1) Risk Management  
2) Contracting Inefficiencies 
3) Cost Reductions 
4) Technology and Process Investment to drive productivity and efficiency improvements
5) Service Delivery Methods 
This list aligns closely with the priorities my business partners have been trying to tackle head-on for the last couple of years. However, it is concerning, that very little progress has been made. This has me wondering why?
The answer can be found in that same research article. In it, EY details how GCs experienced a crisis of confidence regarding their legal team's ability to meet and support company-wide objectives. Inadequate data and technology were cited as the root cause.  In fact in a study referenced, nearly two-thirds of UK's GCs said they did not have the data and technology needed to do their job. Interestingly, 61% of the CEOs at these same companies planned to make significant investments in data and technology.  So, it seemed there was an alignment of goals, making the timing right for investment in legal's digital transformation.
However, anecdotal evidence derived from hundreds of customer interactions seems to indicate something to the contrary. I've come to learn that the level of investment by CEOs to help solve legal's data and technology problem has not been timely, or at the level needed to do anything meaningful. It appears that legal teams have not been successful persuading CEOs to give them their fair share of the budget. And if it wasn't already difficult, the pending economic uncertainty will surely slash funding even further.
Hence, this is why a sound strategy is needed to procure the necessary budget.
First off, your primary focus should be on project selection. Be diligent in identifying 1-2 projects that are most likely to get green lighted because, 1) they target key departmental and company-wide priorities, 2) will result in the greatest outcome, and 3) offer superior efficiency/productivity, ROI justification, and time-to-value measures. Please note, these measures are the critical pieces of information needed to convince the C-Suite of your legal technology project's necessity. 
Done right, proper project selection optimizes spend and delivers on goal attainment, which in turn ensures further investment.
 
Did you know, MyLegal's innovative Legal Front Door and Automation Platform offers best-in-class efficiency/productivity, ROI justification, and time-to-value measures? Did you know that the platform can be leveraged as a solution to address the top 5 priority areas identified by today's CEOs?  

Let us show you why a MyLegal automation initiative is the one project likely to get funded, having the greatest impact on your legal department's digital transformation efforts.

For assistance with project selection and justification, book a consult here: https://lnkd.in/g7qm2prQ
Best,
Jim Tate
Managing Partner & Co-Founder, CEO